SOME OF THE TOOLS IN OUR TOY BOX: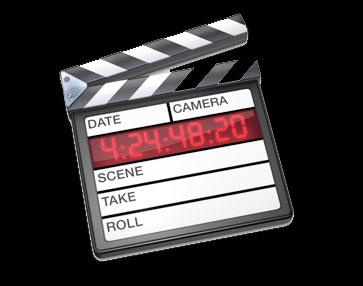 Autodesk Smoke
DaVinci Resolve
Red Cine-X Pro
Final Cut Pro (7 & X)
Premier Pro
Avid Media Composer
Motion
Soundtrack Pro
Pro Tools
Digital Performer
Shake
Combustion
After Effects
Commotion Pro
Boris Red
Boris Continuum
Boujou
Motor
After Effects
DVD Studio Pro
Maya
Modo
Lightwave
Photoshop
Painter
Poser
Illustrator
Compressor
Cinema Tools
Lightworks
Media 100
Etc.
FINAL CUT STUDIO :
AJA IO HD interface to Final Cut provides Apple ProRes 422 in hardware with 1080 and 720 HD, all in full-raster 10 bit 4:2:2—and in realtime! Everything in, everything out! Real-time up/down/cross-conversion.
HD-SDI and SD-SDI I/O (2)
Component I/O (HD and SD)
Composite and S-video I/O
HDMI video w/2-channel audio I/O
Embedded SDI 8-channel audio I/O
AES/EBU 8-channel unbalanced audio I/O
Analog 4-channel balanced audio I/O (XLR)
Analog 2-channel unbalanced audio output (RCA)
Genlock with loopthrough
RS-422 machine control
LTC Timecode I/O
Our RED post workflow npw includes the RED Rocket. This hardware will decode and debayer 4K R3D files in realtime. Hyper-accelerated transcode to any system codec. Plays full quality 2K/1080P scaled from 4K footage out the Dual Link HD-SDI from RED Rocket card. Plays full quality 2K scaled from 4K footage realtime through system graphics card and monitor.
RED Digital Cinema Specialist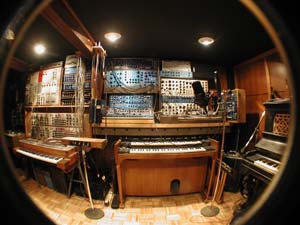 In addition to voice-over and ADR facilities, the AudioRoom contains unique custom-built Buchla and WaveMaker analog modular synthesizers, worthy of a Smithsonian installation.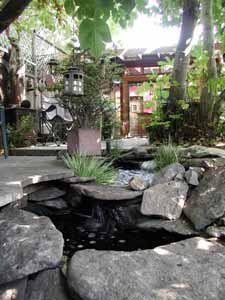 To take a break from editing, you can relax in our patio next to the pond...
...or you can get pumped up at our Espresso Bar to fuel yourself for those late COMBUSTION nights.

MEDIA 100i XR:
Media 100 is a very intuitive system with an easy learning curve. Lossless codec, uncompressed quality duel-stream video for real-time fx; SDI (Serial Digital Interface), FireWire, analog component, Y/C, and composite I / O. We have two of these top-notch standard def systems.
MEDIA 100i To-Go.
Available "To-Go"; weekly or monthly rates.
LIGHTWORKS TURBO:
Lightworks systems have been used to edit feature films and TV programs since 1989. Some of them have been Oscar winners; most recently, loyal Lightworks film editor Thelma Schoonmaker won her third Academy Award for her work on the Boston crime drama "The Departed," which also won Best Picture, Best Director for Martin Scorsese . The Lightworks environment is very similar to editing on a KEM flatbed.

FILM EDIT SUITE
....and yes, some people still like to edit with the tactile feel of celluloid and the aroma of splicing cement. We have a fully equipped traditional film editing suite with an 8-plate KEM Universal 35mm flatbed, a 16mm Steenbeck flatbed, synchronizers, hot splicers, tape splicers, rewinds, bins, etc. We also have 35mm & 16mm Upright Moviolas ("Green Monsters") to go; weekly or monthly.

Linear On-line A-B Roll to Betacam SP & DVCAM
Mastering Decks:
Sony PVW-2800 Betacam SP
Sony DSR-1800 DVCAM

Sony HVR-M25U HDV
Mix & Match From Source Decks:
Sony PVW-2650 Betacam SP, DMC
Sony PVW-2600 Betacam SP
Sony HVR-M25U HDV
Sony DSR-1800 DVCAM
Sony DSR-60 DVCAM

Sony VO-9800 3/4" U-Matic SP

Sony EVO-9850 Hi8

Sony SVO-9600 SVHS

* TRINITY: Component I/O, DVE, CG, Editor, Paint / Animation

* GRASS VALLEY 1600-1XCV Component Switcher, Fairlight CVI

* AMILINK VT-4000 Edit Controller: CMX EDL Compatable

* PRO TOOLS Audio Sweetening: Digital & Analog